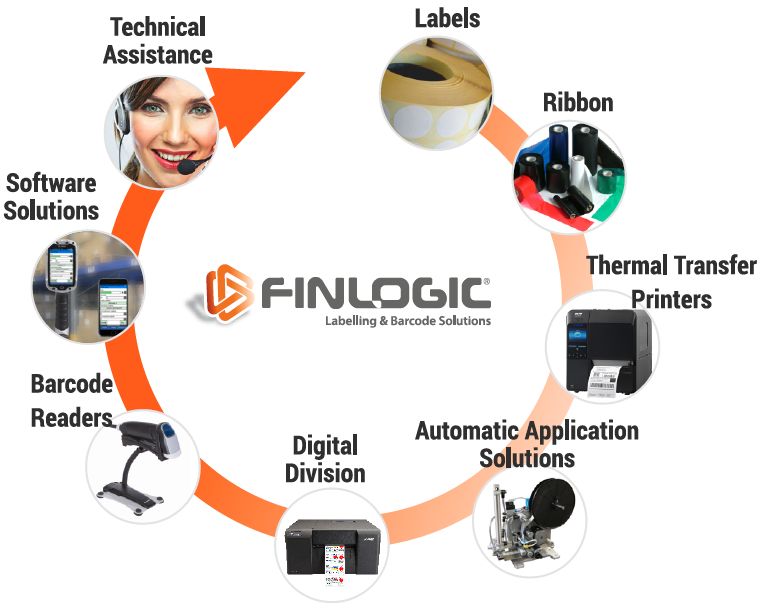 FINLOGIC S.p.A., an Elite company of Borsa Italiana, owns the FINLOGIC group and operates into the Information Technology field, designing complete solutions for coding and auto-id, using barcodes or RFId (Radio Frequency Identification) technologies.
Finlogic Offers integrated and tailored labeling systems for traceability, covering the entire range of needs for all kind of companies (hardware, software, consumables and technical support).
Finlogic has production plants in Puglia and Lombardia and sales offices in Lazio. The workforce group is about 100 people and it is stratigic partner and major supplier of many companies operating in several areas, from food to pharma, from logistic to chemical, from security to health.

The group mainly operates in Italiy but also have important customers in France, Switzerland, Belgium and Spain. Finlogic is also pursuing a developing project based on acquisitions and powering the production capacity.
---
IDlog S.r.l.
is a consulency firm that offers solutions for logistics and IT for companies.
Solutions for barcode printing on labels, RFId technology, print-apply, radiofrequency, software solutions for managing wharehouses and traceability. IDlog is the ideal partner for managing the entire supply chain. Based in Milan, have a presence also in Rome, Bologna and Turin, thanks to a large network of partnership, allow IDlog to offer hi-values solutions and valued services to the entire territory.
FDCode S.r.l.
young company made by experienced people in sales labels and barcode products.
FDcode S.r.l offers LABEL PRINTERS, MOBILE COMPUTERS, RIBBON, BABRCODE READERS with high performance, suitable for large use.
The company base is in Busto Arsizio (VA) but operates in the entire italian territory.

Irideitalia
Purchased in July 2018, the company is headquartered in Figline Valdarno (Fi). For over 30 years it has specialized in the organization of the office and the automatic identification of the warehouse through barcodes and radiofrequency systems, proposing customized and competitive solutions. 2017 achieved a turnover of around 3 million euros and an EBITDA of 371 thousand euros
Mobile Project
Purchased in August 2018, it is a service company active in the field of automatic identification through the development of specific software solutions for both mobile devices and for the entire corporate world, creating integrations with management systems and central databases. It provides its customers with complete "Mobile" solutions, offering advice on the most suitable hardware platform and completely designing the software based on the needs and internal processes of the customer.
Smart lab 3D industries
Purchased in February 2019, it is a company active in the additive manufacturing market, a highly innovative start-up with headquarters in Bari established in March 2015, offers the sale and rental of 3D printers, printing service activity, modeling CAD, patent prototyping, production and marketing of products through the use of 3D printers and equivalent.
Staf s.r.l.
STAF S.r.l. is a company based in Rottofreno (PC), active - since 1994 - in the sector of self-adhesive labels. With approximately 50 employees thanks to the 25 year industry experience, STAF today is an important reference point for the use of special materials and the production of labels for particularly complex applications. In addition, STAF is an important 3M material transformer. Attention to customers is one of the Company's strengths. In fact, STAF provides its customers with valuable support, through targeted consultancy and the rapid production of very complex orders (for materials used or for their transformation). STAF is ISO 9001 certified and complies with all regulations regarding workplace safety.
Socialware Italy srl
Founded in 2009 by Francesco Antonacci, is a consultancy company in digital and web marketing and e-commerce sector. Certified as a Google Partner, Socialware specializes in the management of advertising campaigns on the web, SEO, Web Analytics, Email marketing, Social media marketing and any other activities related to such. Socialware's approach is strongly oriented towards achieving customers' objectives, in terms of popularity of brands on the web, increase in turnover or acquisition of qualified leads.

Alfacod Srl
based in San Lazzaro di Savena (Bo), it is a company active since 1986 and is one of the most important system integrators in the sector, with expertise in logistics and geolocation software, RFID, Voice, RTLS, artificial vision, augmented reality , Enterprise Wi-Fi, cybersecurity, mobile computing, mobile and anthropomorphic collaborative robotics.
In 2008, Alfacod founded the Italian Academy of AIDC, with the aim of spreading the culture of automatic identification and developed the Alfacod Experience Center, an exhibition space of over 300 square meters where customers can see which one and touch with hand the products, technologies and all the solutions adopted.
In 2021 it recorded a turnover of € 13 million.
ASE Srl
based in Travagliato (BS), is a company active in the field of industrial automation for over twenty years, with its experience linked in particular to the printing, application and reading of the label (or tag), allows us to offer the best solutions to every need, developing integrated products and systems; offering strategic after-sales assistance with a complete range of consumable products.
In 2021 it recorded a turnover of € 1.8 million.